Embark on a captivating journey as we unveil our compelling case study featuring the design and development of an automated service for financial advisers. Discover how we revolutionized their workflow, seamlessly integrating various functionalities, from client onboarding and document management to portfolio creation.
Through our expertise in UI development and API integration, we crafted a robust solution that propelled the company to success, culminating in its acquisition by Franklin Templeton Investments. Witness first-hand the transformative impact of our partnership on their journey to remarkable achievement.
Beginning the journey
Back in 2013, a referral led me to a small project: help building the frontend for a niche wealth management solution. This was how our team got involved in one of the biggest FinTech projects to date.
The Wealth Management market had long been rooted in tradition, with financial advisors usually preferring face-to-face meetings with clients looking to invest. It was the industry norm given its unique nature.
We quickly discovered that Wealth Management isn't just about identifying the right investment opportunities. It's about helping clients achieve their financial goals. A successful financial adviser needs more than just financial acumen - they also require strong interpersonal and communication skills. Sometimes, they even have to help clients discover goals they didn't realise they had.
The project founders arrived with a vision. Our primary mission was to help them bring this vision to life through the development of a Minimum Viable Product (MVP). Although we initially focused on UI design, our role soon expanded to include backend development as well.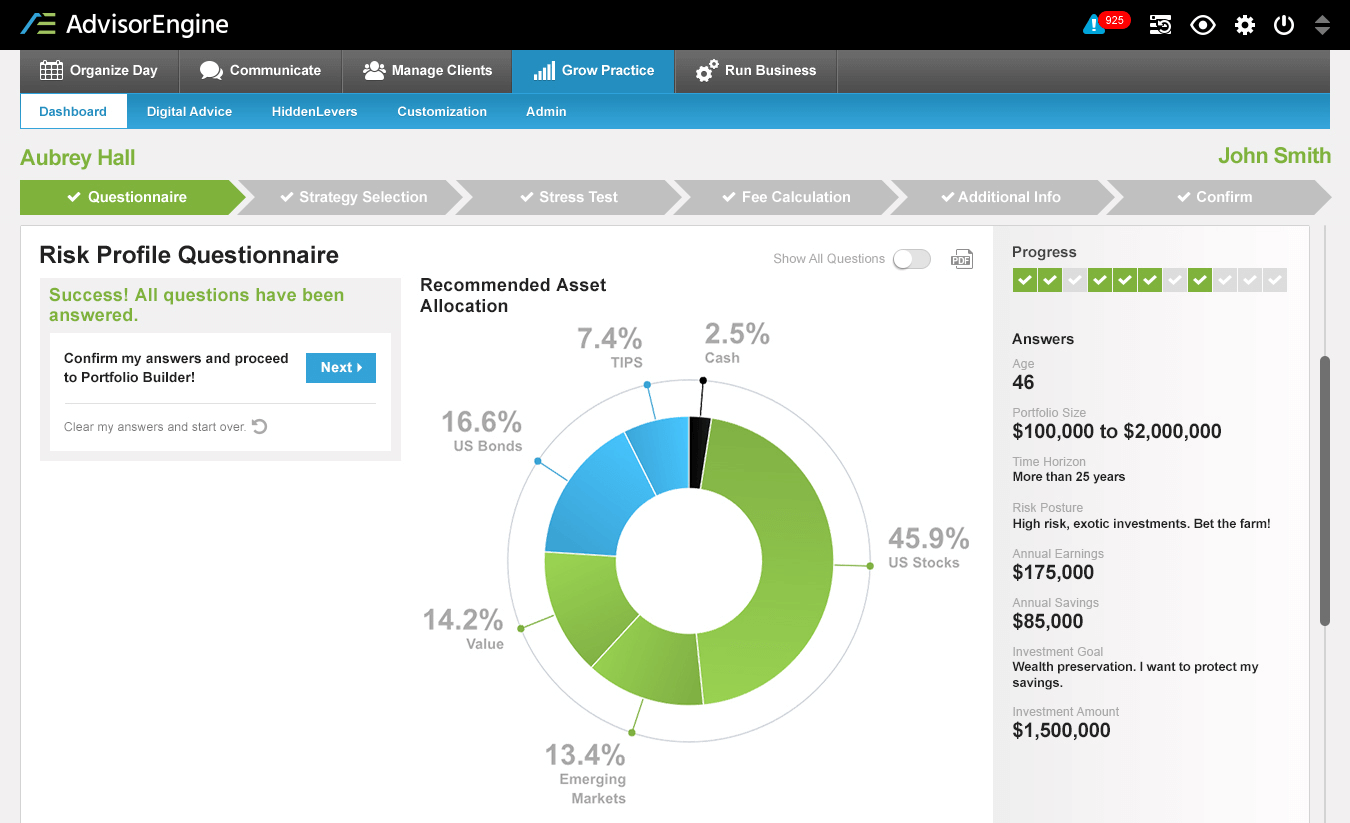 AdvisorEngine UI design
After MVP
The MVP launch was a success. This, coupled with a fresh influx of investment, propelled us towards our next significant objective — crafting a comprehensive product and transitioning existing financial advisers onto our platform. This task demanded a full-scale implementation of workflows, right from prospect generation to executing monetary transfers, making investments, and rebalancing portfolios.
One of our pivotal findings was the value of third-party services. Building a user-focused solution from scratch, like a platform, can be a lengthy and expensive process. In contrast, an efficient platform can often be a seamless integration of various external services.
Our journey forward was marked by diverse challenges. Initially, we needed to swiftly amass expertise in domains unfamiliar to us: operating within a sales funnel, managing U.S. money transfers, performing portfolio modelling, understanding the mathematical theories and metrics necessary for portfolio analysis, and learning how to rebalance an existing portfolio. This led to our second major challenge: developing quick integrations with an array of external services.
Another hurdle we faced was the expansion of our team size. The product had accrued enough funding to fast-track development and showcase progress, compelling us to recruit more team members. Our team grew from a small group of 3-5 individuals to a robust team of 30-40. This expansion necessitated a shift in our workflow: (1) We transitioned from a single 'monolith' group to multiple Scrum teams of 3-7 members, each functioning independently; (2) We instituted a two-tier management system, with separate focuses on team and project levels.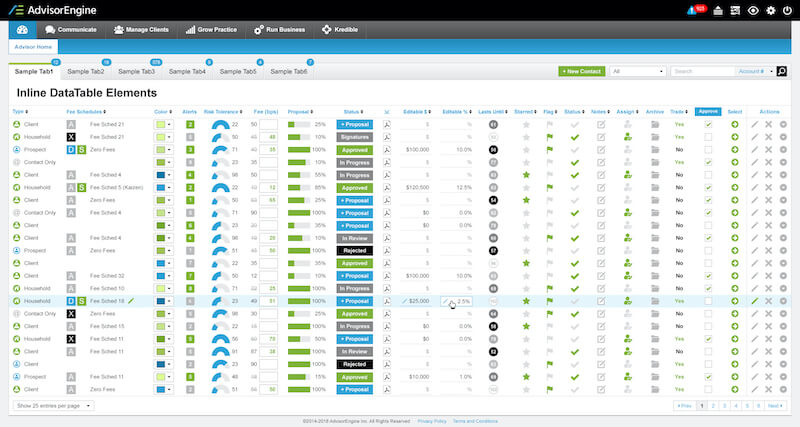 AdvisorEngine Dashboard
Communication, communication, and communication
Team expansion brought about a host of changes. Establishing the development teams was relatively straightforward, but fine-tuning our communication flow proved to be a more intricate task. Before the team's growth, we had direct interactions with stakeholders. However, post-expansion, our communications were often intermediated by managers not directly involved in decision-making, leading to tension in our relationships.
Key Insight: A valuable lesson from this journey was realizing that individual perceptions can be significantly divergent. Simply put, it's unwise to assume that everyone will perceive or act the way you do. For instance, while you might view emails as concrete summaries and agreements, others might disregard them entirely. Furthermore, in certain situations, especially when communication is strained, a face-to-face conversation can be far more effective than a call.
Notwithstanding these hurdles, we successfully accomplished our tasks. The overall journey ended successfully — the company was acquired by Franklin Templeton. (link).
AdvisorEngine provided services for more than 1,200 advisory firms managing $600,000,000,000+ of assets in total.
Skills acquired
Managing multiple Scrum teams and simultaneously delivering various features.

Gaining a deep understanding and expertise in wealth management, robo-advising, and FinTech services at both product and development levels.

Improving communication soft skills.
Key outcomes
Even the most compelling stories can originate from humble beginnings.

Deep industry understanding is crucial when developing a product. Without grasping its intricacies and customers interactions, one cannot create a truly good product. Comprehension fosters productivity and efficiency, thereby yielding superior results.

Effective communication is the cornerstone of all successful relationships. Regardless of the nature of your services, any breakdown in communication can lead to failure. Dedicate time and resources to this aspect, including enhancing the soft skills of your managers.
Services
front-end
back-end
integrations
DevOPS
management